When it comes to getting an auto loan, take the time to carefully look at all your options. What you initially think is a great offer, may end up costing you more money in the long run.
MYTH

TRUTH

With 0% financing, I'm guaranteed to get the best price
Offering 0% financing may inflate the price of a vehicle to make up for lost finance charges. This may make it more challenging to negotiate a lower price. A reputable dealer will allow you to negotiate the best possible deal before the 0%.
0% is good on long-term loans.
Although there are exceptions, ask upfront about the length of the loan term available with 0%.
0% is available for the car I want.
With 0%, your choice of vehicle options can be greatly limited. Usually the most popular vehicles and new models are not available with 0% financing. Be sure to research whether or not you can obtain 0% on your car of choice.
I can use the cash rebate and 0% financing to save more
money.
Typically, most auto manufactures offer a choice between a cash rebate and an interest-free loan, not both. If you opt to take the special financing, you can lose out on thousands of rebate dollars. Do your homework in the beginning. Take advantage of the CUDL AutoSMART calculator to determine if you'll save more money on the rebate or the 0% financing.
I'm sure I'll qualify for 0%.
Unfortunately, not everyone qualifies for the 0%. It's often reserved for buyers with the best credit. Find out if you meet the requirements for 0%.
With 0%, I do not need to worry about the price of the car.
So you think 0% financing means you're already saving all you can? Even if you qualify for the 0% rate, you can save even more money by negotiating your vehicle's final price, and taking advantage of any additional offers. Watch your bottom line and don't leave money on the table
- Back to top -
Research Your Options
As a credit union member you are already aware of the many benefits your credit union offers, including low interest rate auto loans and great service tailored to your needs. By researching your auto financing options before you visit a dealership, you may find that when using your credit union's low percentage rate you are still allowed to use any rebates offered by the manufacturer. This could be your best deal! Refer to Chart A for an example of a 36-month term on a $22,000 vehicle at 0% vs. taking the $2,000 rebate and a credit union loan at 6.00%.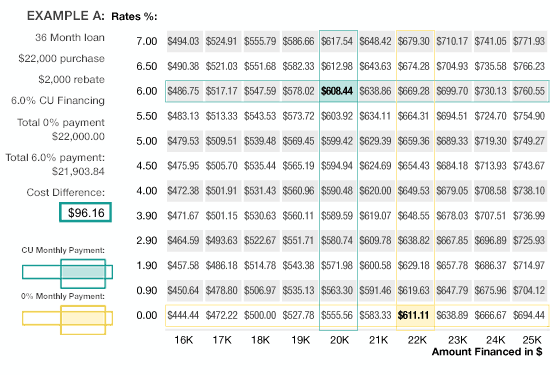 As you can see, when taking the rebate, the price of the vehicle drops to $20,000 and the monthly payment also drops lower. Since with the rebate, you are reducing the amount that you are financing even further; and in combination with the Credit Union's low rate your overall costs are lower than if you had received the special factory financing.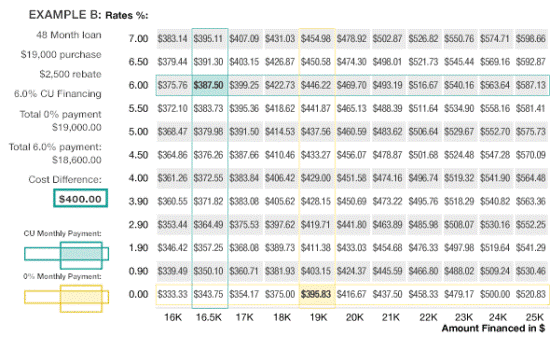 Chart B shows an example of a 48 month term on a $19,000 vehicle. Taking a $2,500 rebate lowers the cost of the vehicle to $16,500 and again lowers the monthly payment vs. taking the zero percent with no rebate.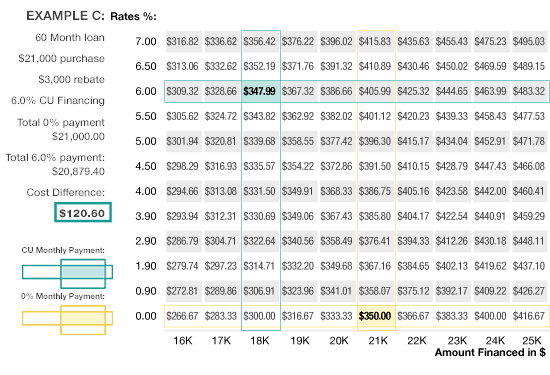 Chart C is an example of a 60 month term on a $21,000 vehicle with a $3,000 rebate. Again, credit union financing with the rebate is the best deal. Refer to Chart D for a complete breakdown and example of factory financing vs. credit union financing.
To insure you are getting the best deal, contact your Credit Union to find out about their auto financing rates. Also take a moment to review CUDL's 10 Tips for Buying a New or Used Car. Or click here to research pricing information, locate a dealer, receive price quotes from participating dealers or configure your dream car, through the CUDL AutoSMART Program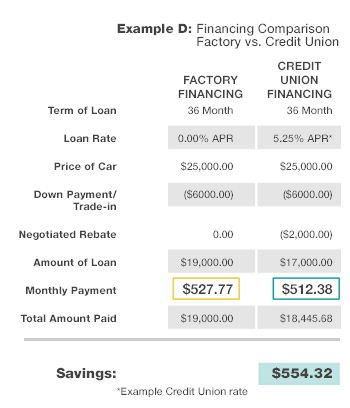 - Back to top -